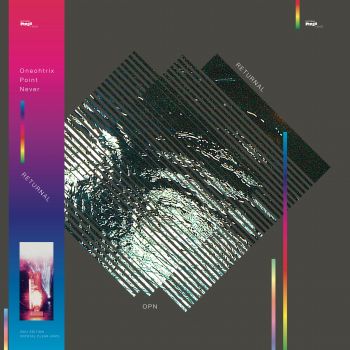 Returnal
1. Nil Admirari (5:06)
2. Describing Bodies (4:19)
3. Stress Waves (5:41)
4. Returnal (4:42)
5. Pelham Island Road (7:35)
6. Where Does Time Go? (6:23)
7. Ouroboros (2:02)
8. Preyouandi (6:12)
Special mirrored silver foil gatefold cover with banderole. Pressed on crystal clear vinyl.
One time pressing.
All music by Daniel Lopatin
Recorded and mixed at Ridge Valley Digital, Massachusetts July - August 2009
Instrumentation: Akai AX-60, Roland Juno-60, Roland MSQ-700, Korg Electribe ES-1, Voice Recorded using a personal computer
Mastered by James Plotkin
Tape-op & additional engineering by Al Carlson
Layout and typography by Stephen O'Malley
Photograph by Yelena Avenesova
'Returnal' is the 4th album from Daniel Lopatin's Oneohtrix Point Never project, after 'Betrayed In The Octagon (Deception Island, 2007), 'Zones Without People (Arbor, 2009) and 'Russian Mind' (No Fun, 2009). All 3 albums being superbly compiled on the 'Rifts' double CD set (No Fun, 2009).
It sees Lopatin fine tune his craft for creation of deep atmospheres and texture even further. Starting off with the mind blowing triptych of 'Nil Admiari'/'Describing Bodies'/'Stress Waves', which fires off into a noise/rhythm excess before entering a zone of relative calm building to the melancholy of the final part. This set the tone perfectly for the albums title track, a stunning out of this world ballad featuring Lopatin's near desperate vocal delivery, ending what could be seen as one of his most chilling and thought provoking sides to date.
The atmosphere is slightly lifted as the darkened sun comes up over the ruins on 'Pelham Island Road' and 'Where Does Time Go', with the album closing with edgy broken beats and fourth world possible landscapes of 'Preyouandi', which fades into the distance with echoes of the 'Returnal' chorus, closing the loop.
What's burnt into memory here is Lopatin's love affair with the long, slow path back home... the cycle... the hypnotic sector... the ghost in the machine... and whether people are making dance music or hip hop or space head music or metal, the ouroboros is present in every sector -- as it was in Bach's study, and in the elephant songs of the Ituri forests.
Available on CD in six panel digipack and LP in gatefold cover.