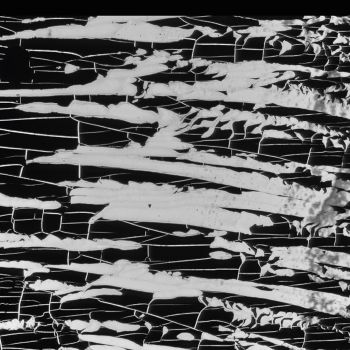 EMEGO 305 / BJNilsen
Irreal
1. Short circuit of the conscious thought 15:20
2. Motif mekanik 12:50
3. Beyond pebbles, rubble and dust 38:28

Total 68:38

All material by BJ Nilsen
Recorded and Mixed at Odd Phasing and Echoes, Amsterdam NL 2021
Source material from Austria, Russia, South Korea and The Benelux

Mastered by Stephan Mathieu, June 2021

Photography Karl Lemieux

Design by Stephen O'Malley

Irreal definition is - not real.
'In order to imagine, a consciousness must be able to posit an object as irreal'— nonexistent, absent – Jean Paul Sartre
Irreal is a selection of recordings from different situations encountered in Austria, Russia, South Korea and The Benelux. The range of sound is as wide as is the emotional impact which slides from the unnvering to the shimmering and gorgeous. Doors, Bells, Birds, Wet snow falling from a tree, hacking of wood, Water dripping in a cave are all exquisitely captured and moulded into vast landscapes of sound. Human voices, String instruments, Descending trains, Oceans, Winds, Grass, Trees. These diverse sonic elements are grafted around and upon each other to create a rich tapestry of sound. Electronic embellishments harness the whole to create a singular expressive canvas. The 3 part suite concludes with the Beyond pebbles, rubble and dust, a grand glacial work which serves as a masterclass in extraordinary transcendental drone. The sound of nature, the nature of sound and the effects these have on humans has been a primary focus of Nilsen's investigation over the years. Irreal resounds with a level of sophisticated enquiry one would expect from one of the contemporary masters of the form.