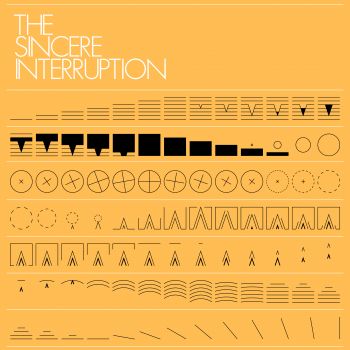 SP 021 / Eric Lanham
The Sincere Interruption
1.1. Handling Noise (1:27)
1.2. 21:00 (6:20)
1.3. The Sincere interruption (3:18)
1.4. Liminalimit (6:22)
1.5. WN 689 (2:28)
2.1. AM/ER JOS (3:57)
2.2. Posistion: BWIK 15 (3:35)
2.3. No Ordinates (8:16)
2.4. SDF 689 (3:51)
Live Improvised Music by Eric Lanham
Recorded March 2012 at ELS
Mastered at CGB at D&M
Design by Robert Beaty
It's been a long time coming and it's great to finally announce the release of Eric Lanham's "The Sincere Interruption", his first long-playing record under his own name after performing for years under various solo guises such Carl Calm and Palmetto Moon Electronic Group and as one half of the Caboladies equation. Commissioned back in the summer of 2011, it was finally recorded in March 2012 and it's been well worth the wait.
Lanham has crafted a very special set of improvised electronic compositions which rise above many of the contemporaries of his ilk. With an eye on both the origins of electronic music as well as the not so distant past, "The Sincere Interruption" was recorded in superb fidelity with great attention to sound placement and frequency variations. Elements of late 90's-early 00's Mille Plateaux/Warp styled disjointed rhythms are bent into surgically precise and meticulously pieced concrete/electronic form, crammed with information overload situations and infinite variables to one's listening perception. It's a challenge to hear the album the same way twice with the sheer amount of action and peculiarity happening over the duration.
While there are indeed busy moments throughout, tracks like "21:00" and "No Ordinates" display an attention to control and deep focus, relying on an idea which develops and evolves seamlessly in subtle variation while retaining a repetitive nature. An outstanding effort and a great addition to the ever evolving Spectrum Spools catalog.
Complete with an outstanding master and cut by CGB and Dubplates and Mastering.