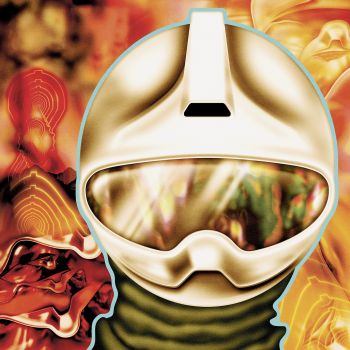 SP 020 / Gary War
Jared's Lot
1. Thousand Yard Stare (3:58)
2. Advancements In Disgust (2:41)
3. Superlifer (3:40)
4. Find Our Way (3:22)
5. Pleading For Annihilation (4:33)
6. Care Less (2:57)
7. World After (3:24)
8. Muscle Dysmorphia (3:09)
It's been nearly two years since we've heard new music from Gary War and we are excited to announce the release of his inevitable breakthrough "Jared's Lot".
Through the years we have heard the developments from the D.I.Y. psychedelia of "New Raytheonport" to the more current electronic acid-prog tracks we heard from "Horribles Parade" and the most recent "Police Water" EP. "Jared's Lot" brings the years of laboring and hard work full circle, with every facet of the project dialed into perfection. These tight and intelligently arranged pieces are the most concise and mind-blowing set of songs presented yet and we're sure you'll have a hard time taking this off your turntable.
The album kicks off with the incredibly anthemic "Thousand Yard Stare", which asserts immediately that the album is very different than previous efforts, crafted with hind-sight in mind and glowing with ambition. We can hear the melancholy voice of a man lost in the cosmos with nothing to lose going for broke, it's all or nothing. Tracks like "Superlifer" and "Pleading for Annihilation" contain such a powerful energy and pack such a wallop that you won't possibly be able to stand still. There is a great juxtaposition however, with songs like "Advancements in Disgust" and "World After" experimenting with new styles of pop/rock structure and incorporation of odd rhythm and melody.
Gary has a masterful control of his machines, and you can tell that countless hours were spent making sure that the vision came direct and absolutely pure, from his mind to the record you will hold in your hands. Even though we have a more synthetic based set of tracks, it's apparent that these transmissions are messages that are based in our reality, evoking a boundless range of emotions throughout.
The hectic fidelity of Gary War's previous recordings have morphed into a unique production style which rewards with it's rich tone and multi-layered tiers of sound and melody. We are witnessing a huge leap forward in both sound and vision, respectively. Meanwhile, the alienated code hardly discernible to the listener and clever pop structure remains, and in top form, making this album a warmly received gift to the Spectrum Spools catalog.
"Fear that man who has nothing to lose."
Mastered by James Plotkin