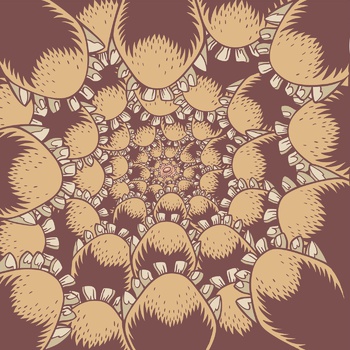 SP 035 / Prostitutes
Petit Cochon
1. Powerful Magnets (01:30)
2. The Bluffer'€™s Corporation (05:51)
3. Tube Without Exit (02:20)
4. Build Your Kits (05:30)
5. Suck Out The Reason (02:54)
6. A Number Between Their Eyes (02:04)
7. Cylindrical Habitat (04:29)
8. Stains Left Unnamed (03:17)
9. Suffocate, Purchasing (03:38)
10. Four Basic Forces (06:37)
Conceived/Recorded/Mixed: Summer/Fall 2013 @ Elbur House
Mastered by James Plotkin.
Cut by CGB at D+M Berlin.
Artwork and layout by Mark Dancey.
"Petit Cochon" is the third LP and debut album for Spectrum Spools by James Donadio under his Prostitutes guise. From "Psychedelic Black", the self-released debut LP limited to only 100 to the esteemed "Crushed Interior" on Digitalis, it's safe to say Donadio has crafted a style unmatched in the climate of contemporary electronic music. The top shelf E.P.'s on Mira and Diagonal were a small glimpse into all that has led up to the new full-length, which we are proud to unveil.
"Petit Cochon" is a total burner, no exceptions. From the opening cryptic threat of "Powerful Magnets" into the serrated pummeling of "The Bluffer's Corporation", it becomes clear very quickly that no punches will be pulled and that "Petit Cochon" is a heavy affair. Donadios signature sample manipulation in tandem with live electronics and particular mixing processes hit new highs with the manic clatter of "Suck Out the Reason", which shifts and shuffles between huge snare drums and whispers from the void. "Stains Left Unnamed", like it's title suggests, is a grim and filthy ordeal with head-spinning delay ringing alongside jagged and fractured rhythm. This album has cuts for the club heads and for those locked away from the rest of the world, and as a whole serves as the perfect and logical next full length in the Prostitutes cannon.