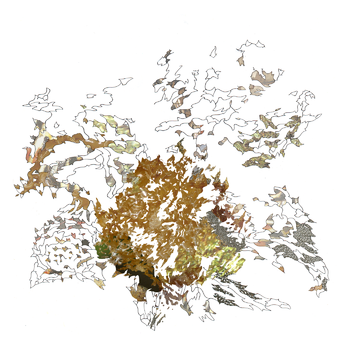 SP 031 / Max Eilbacher
Red Anxiety Tracers
1. Slowlo / Persistent Scenes / Did the Surfer Survive?
2. (Intro) / Geetar / No Room For Breathing / Rail Trax
Max Eilbacher's "Red Anxiety Tracers" is the debut long player from the multi-talented Baltimore, Maryland stalwart . Elibacher has performed with various projects such as Matmos, Horse Lords, and the mind-altering underground Needle Gun aktionist unit. Despite years of busy touring and recording, "Red Anxiety Tracers" is the first vinyl artifact from this young mastermind.   
Crafted over the course of a year, "Tracers" is a labyrinth of shapes and sounds which glide through a complex and arcane environment of found sounds and synthesis. An expertly crafted maze of deja-vu, audio hallucinations, and dislocating atmospheric forms an audio obstacle course for the listener. Complex editing techniques and sound structures recalls the works of J.D. Robb or Owl Records era Tod Dockstader albeit witha radically fresh perspective and educated hindsight.  
"Red Anxiety Tracers" exhumes impeccable flow and careful attention to dynamic range, with it's surgical placement of sound events challenging the deep listening abilities of it's audience. Raw and manic tension overloads are cut with alien float and abstract aether transmissions with a constantly shifting palette of sounds spun from blasted modular electronics, vocoded terrestrial-speak, and glowing mellotron clouds. Eilbacher communicates a strange and beautiful dialect conceived through disciplined compositional structure and an intuitive improvisational style unparalleled in the current landscape. "Red Anxiety Tracers" breathes new life into modern electronic composition.