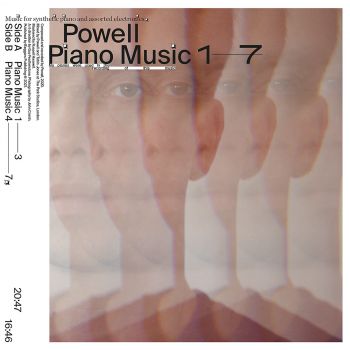 Piano Music 1-7
1. Piano Music 1
2. Piano Music 2
3. Piano Music 3
4. Piano Music 4
5. Piano Music 5
6. Piano Music 6
7. Piano Music 7
LP / CD
Music for Synthetic Piano and Assorted Electronics
Composed and recorded by Powell, 2020
Mixed by Powell and Tobin Jones at The Park Studios, London
Mastered by Russell Haswell
Art direction by Guy Featherstone
Photography by John Cronin
Editions Mego is proud to welcome Powell to its roster with a bizarre and strangely emotive new LP of synthetic computer works entitled Piano Music 1-7.
Via his own Diagonal Records imprint, his work on XL Recordings and, most recently, the opening of audio/film platform A Folder [afolder.studio], Powell has firm footing in the contemporary electronic landscape. During a wry and obstinate musical life he has twisted myriad synthetic forms into shapes that explore and expand upon the districts of post-punk, techno, noise + computer music, and in the the last year alone he has released four albums of hi-def abstractions, each inspired by a formalisation of music proposed by Iannis Xenakis. 
As an extension of this intense period of work/research/play with stochastic functions [using probabilities to compose music], various processes emerged that Powell then began to apply to more traditional musical events. Where ordinarily in his work the probabilities and relationships are used to define parameters such as wave-shape, folding, FM, filter modes etc., he now began to use them to create musical formations and visual scores that could be played back using any software/MIDI instrument [one of these can be seen on the rear cover of the LP release]. While mapping out this cartography of relations, he used a basic Grand Steinway sampler as a placeholder instrument; the longer the process went on, though, the more he began to embrace the acoustic properties of the synthetic piano and make it the bedrock for this new constellation of work. 
Piano Music 1-7, subtitled 'Music for Synthetic Piano and Assorted Electronics', consists of seven different synthetic islands strung together into a single composition. All were composed using the aforementioned processes that allowed Powell to play a piano, even if he never learned to do so with his hands. After all, 'In writing electronic music,' Robin Mackay once wrote, 'you also have to direct the invention of new tools.'
Recorded in late 2020, these new Powell works propose not just a bold and bright vision of electronic music but serve also as a map with which, for 35 minutes at least, we can navigate our way out of the current milieu. As the artist himself remarks in the sleeve-notes, '. . . What emerged from this fog or soup [for me] were ideas and processes that felt affirmative and life giving — sensations I had always hoped to convey in my music. Perhaps the optimism or positivity I felt at these musical events unfolding, these clusters and knots tumbling in different directions across time, can also be felt by you.'