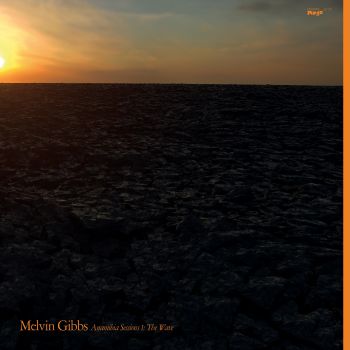 EMEGO 291V / Melvin Gibbs
Anamibia Sessions 1: The Wave
1. Future Blues
2. Ibo Code
3. Inner Chamber
4. Life Force
5. Light Absorption
6. Professor Graves
7. Vibro
A potentially surprising release on Editions Mego. Another planned prior to the untimely passing of Peter Rehberg in 2021.
Melvin Gibbs is the renowned bass player and producer from Brooklyn who's vast resume includes playing with Sonny Sharrock, John Zorn, The Rollins Band, Dead Prez, Caetano Veloso and Femi Kuti amongst others. A solid resume, no doubt, but what is Gibbs doing on Editions Mego?
Behind the scenes, those who know Gibbs knew that amongst all this he was also tinkering away at another form of music, one which skirts around the border between music and sound design. The Wave is the first release that reveals this side of Gibbs' creative output to those outside his inner circle.
The driving force for this output is Gibbs' multi-decade friendship with acclaimed American video artist and cinematographer Arthur Jafa. Over the course of time Gibbs and Jafa have had many conversations about music and the connection between film and music. Jafa's desire to make film that worked the way Black (as in Black/African-American/ Afro-diasporic peoples) music worked inspired Gibbs to study the filmmakers Serge Eisenstein and Dziga Vertov and incorporate their philosophies and tactics when recording his own music. The two discussed sound design which directly informed Gibbs' choice of music making tools and led to him acquiring Symbolic Systems Kyma software and hardware, incorporating this as a composition tool and sound design and component in his work. These conversations bore concrete fruit through Gibbs' work for TNEG, the film studio Jafa ran with filmmakers Malik Sayeed and Elissa Blount Moorhead. Gibbs created the soundtrack for their very first project, the short film "Deshotten 1.0" (2009 - directed by Jafa and Sayeed) as well as their Martin Luther King-inspired meditation on Black life "Dreams Are Colder Than Death" (2013, directed by Jafa).
The bass-forward music, or 'sonics' as Gibbs calls it, emerged from an alternative mode of contemplation, a mode that he sees as closer to the mindset of a rootworker, an African-American herbal doctor who cures psychic ailments using means derived from African spiritual practice, entering a forest to find the right plants for a suffering client than a mediator attempting to invoke mindfulness. Gibbs says this practice yields results that suggest an aural form of creation akin to coagulation, a formal movement that gives the sense that a flow of sounds can emit something bearing resemblance to solidifying objects.
In 2020 Jafa asked Gibbs to work on the soundtrack for a work in progress called "The Wave''. When they got together to work on the soundtrack, Jafa played Gibbs a selection of sounds that included random moments of (probably unwanted) feedback on 70's Miles Davis records, Pop Smoke's Brooklyn drill, the music of Bernard Gunter and Darmstadt-style compositions made with test equipment. Those sounds, filtered through years of conversation with Jafa about Black creativity and the possible evolution of Black music, formed the sonic vocabulary of "The Wave".
Over time the sonics evolved and "The Wave" became the piece Jafa calls "AGHDRA". This soundtrack incorporates and expands upon the sonics composed for "The Wave". Gibbs mentions although the work with Jafa has always skirted these lines of evolution, this side of his vocabulary has been generally neglected, until now, due to his current jazz musician/jazz festival-centric focus and radar.
The result of this parallel exploration is a deep excursion into a nuanced sound world. The rich tapestry of textures allows one's mind to explore and project within this bed of curious investigation of sound. The bristling, itching, restless, clicking, diving nature of the electronic sound world presented by Gibbs, is abstract and unearthly on the surface but closer listening (which it demands) reveals a very human quality to these austere shapes.
It may be a universe apart from his work in the field of jazz but stands high amongst the more experimental work found amongst the Editions Mego catalogue and like Jafa's work in film is a triumph of exploratory forms.