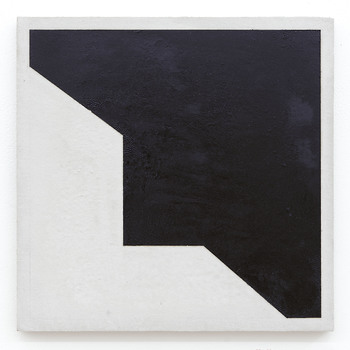 Through A Pre-Memory
1. Muse 
2. Toward all thresholds 
3. Mirror of mirror dreams 
4. Watch over stillness / Matters principle 
WHITE VINYL SOLD OUT AT SOURCE!
Music by Mika Vainio & Stephen O'Malley
with Alan Dubin / Vocals ;; Eyvind Kang / Viola 
Moriah Neils / Contrabass ;; Maria Scherer Wilson / Cello 
String arrangements by Eyvind Kang ;; Tape manipulations by Randall Dunn 
Lyrics from Anna Akhmatova's "Muse", "Untitled" & "Across The Landing" (epilogue) 
Recording 0311, 0112 & 0812 in andereBaustelle Tonstudio, Berlin by Marco Paschke 
Arrangements recording & Final Mix 0313 in AVAST!, Seattle by Randall Dunn 
Mastered and cut 0513 at Dubplates & Mastering, Berlin by Rashad Becker 
Front and back cover artwork/planks by Emilie Ding
Produced and art directed by Stephen O'Malley
MAXIMUM VOLUME YIELDS MAXIMUM RESULTS
Mika Vanio and Stephen O'Malley are both seminal figures in the experimental underground   having established themselves in the epoch defining acts Pan sonic and sunnO)). Whilst they explored different worlds, one abstracted guitar drone metal, the other hard rhythms and analog atmospheres, there was always an underlying thread which bound both acts: massive blocks of sound, vast cavernous spaces, a sense of drama and the foreboding along with a deep exploration of the physical experience unlike any previously experienced.
Pan sonic and sunnO))) first collaborated together on a Suicide cover version for a Blast First Petite series in 2007/8, and following this Mika and Stephen decided to collaborate further with what eventually became the ÄÄNIPÄÄ sessions. Recorded at Einstürzende Neubauten's andereBaustelle Tonstudio in Berlin and mixed at Avast! (Soundgarden, Earth) in Seattle over an extended period the results see individual approaches coalesce into a monumental whole. The signature motifs of both players are to be found here: the sparse crushing rhythms of Vanio's minimalist techno alongside the black hole drones of O'Malley's guitar workouts. It is the alchemical combination of these  element that shifts this release into a new world of burning intensity.
At once unholy and emotional 'Through a Pre-Memory' takes the listener on a vast journey. On 'Toward All Thresholds' immense bleak landscapes succumb to sparse glacial rhythms. 'Mirror of Mirror Dreams' holds itself in reflective terrain as string arrangements by Eyvind Kang are played with Moriah Neils (contrabass) and Maria Scherer Wilson's (cello) providing desolate strokes to the cleansing ambient landscape preceding it. A new level of terror is reached on the epic 'Muse' and 'Watch over Stillness / Matters Principle' as the writings of Russian modernist poet Anna Akhmatova are put to music and sung/spoken/screamed by Alan Dubin (Khanate / GNAW / O.L.D). These monumental texts which book end this lp are at once ravenous and destructive. The shredding light shining through an impossible black.
'Through a Pre-Memory' is a deep immersive experience from two of the most extreme forward thinking music/sound practitioners today.
–Press release by Mark Harwood, London 0913